Genetically Modified Update Now Available!
---
The latest update to Intelligent Design: An Evolutionary Sandbox is now available to download on itch DRM free! It's the biggest update we've done. It's full of new content and improvements. To celebrate the game is 50% off on itch for the next week. Give it a try, let us know what you think, and please tell your friends!
New Map
We've made a new map for you to play on. It's inspired by arctic landscapes, and so features big flat plateaus with deep crevasses snaking around them. Will micro-ecosystems emerge in these dark depths? Will plants evolve to find their way up these sheer cliffs? We're so excited about this new map, we've made it the first map new players will see.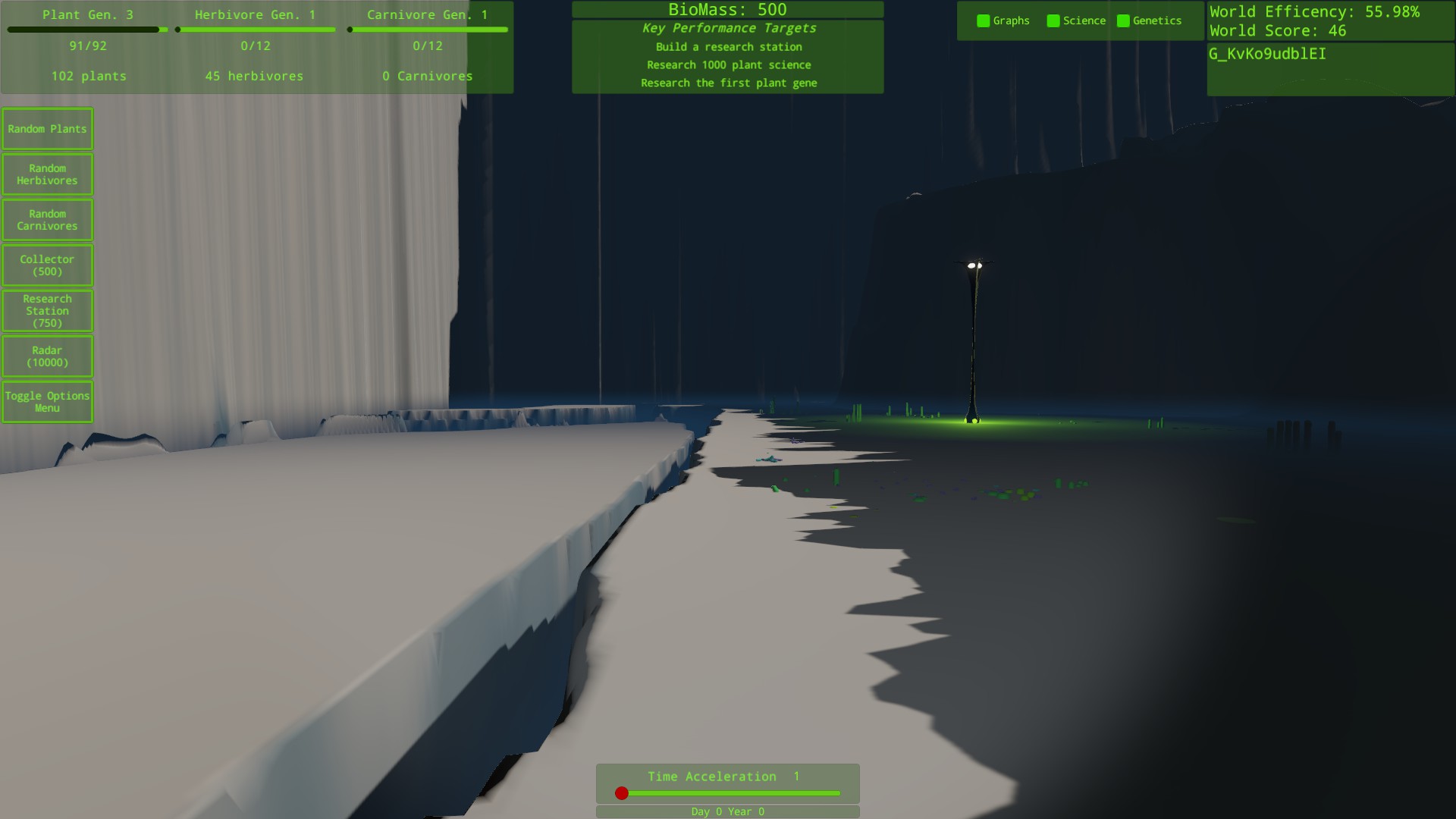 New Controls
The controls have been completely changed. We read your reviews and we watched countless YouTube videos, and the hard decision was made to drop controller support. Now the game controls something like Factorio or Two Point Hospital. Move the camera with WASD and holding down the middle mouse button. Then simply use the cursor to click where you want to build buildings or create creatures.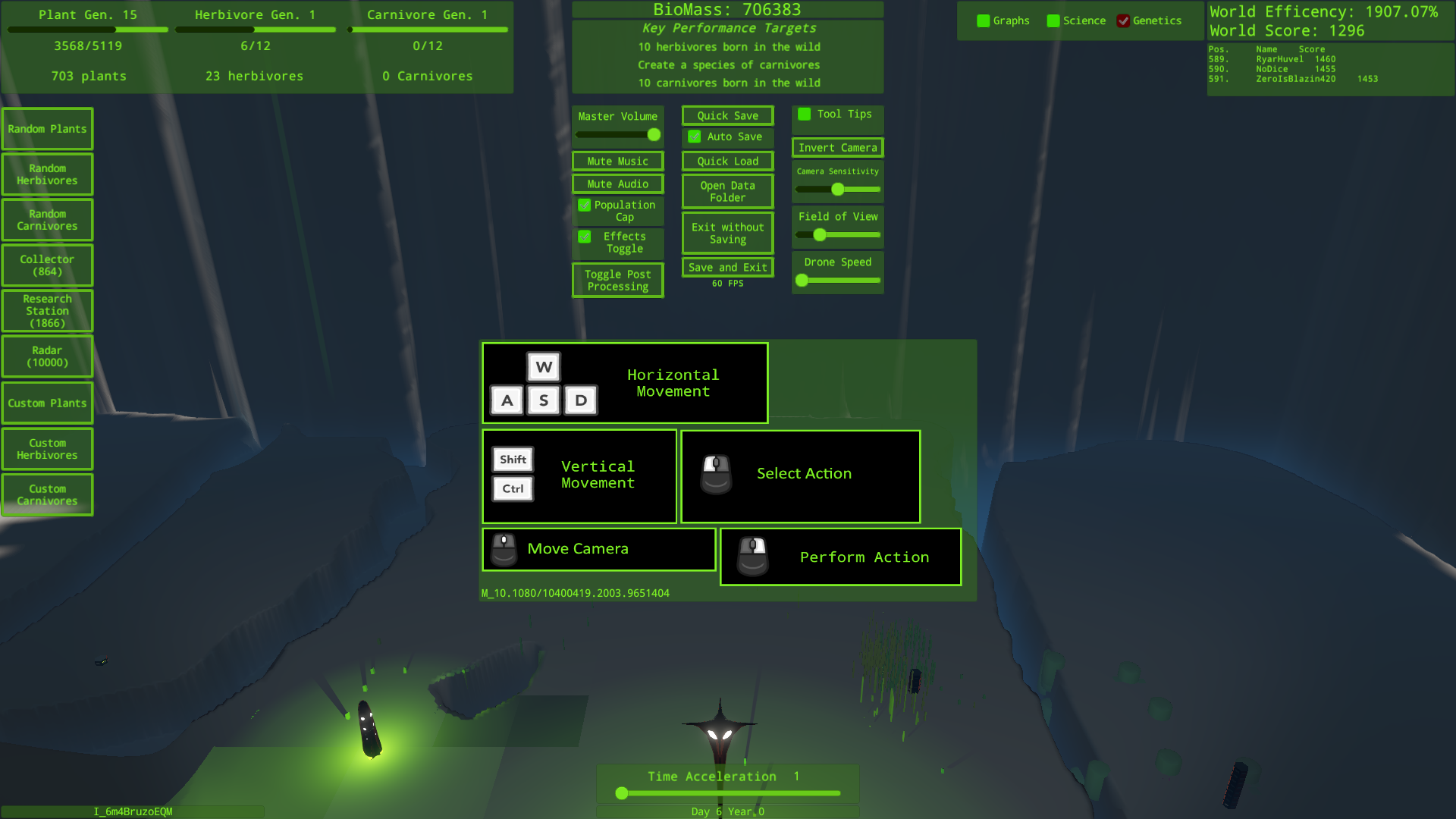 New Genetic Engineering UI
We have also completely changed the genetics panel. Now you can see every gene you've unlocked for an organism on one screen, and then edit them all at once using a slider-based system.This new UI also allows for quick and comprehensive inspection of existing organisms in your world. We hope this gives you a better sense of what is going on.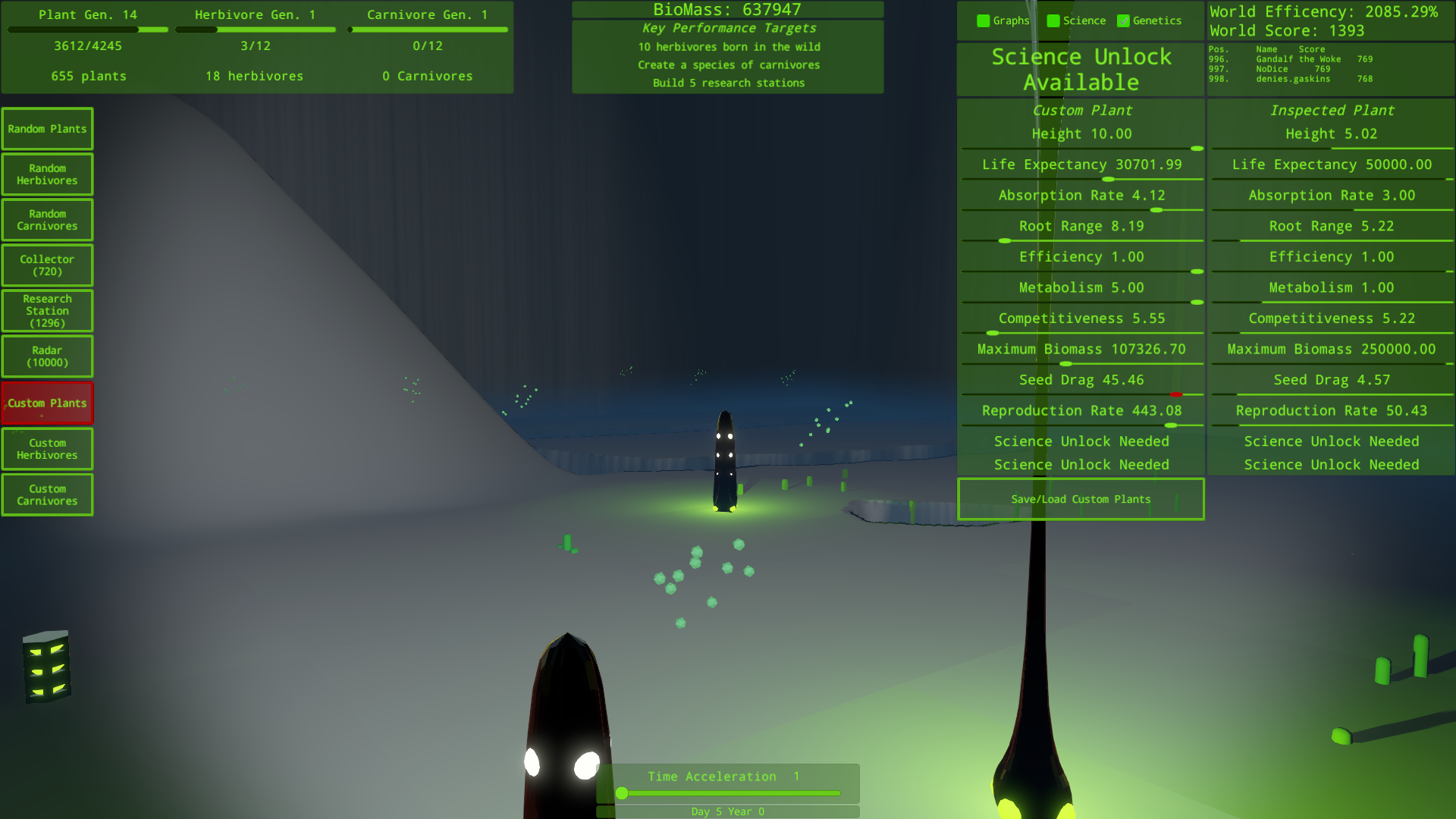 Massive Performance Improvements
It took a lot of work but we've managed to significantly improve performance in the game. This is mainly due to the experience gained developing Cycle 28 for Nintendo Switch™, but also due to updates in Unity3D. Population numbers can now get much higher at a playable framerate. The population cap is still something you can disable, so those of you who want to push your thinking machine supercomputers to breaking point - or just want to heat your room as we head into winter - can.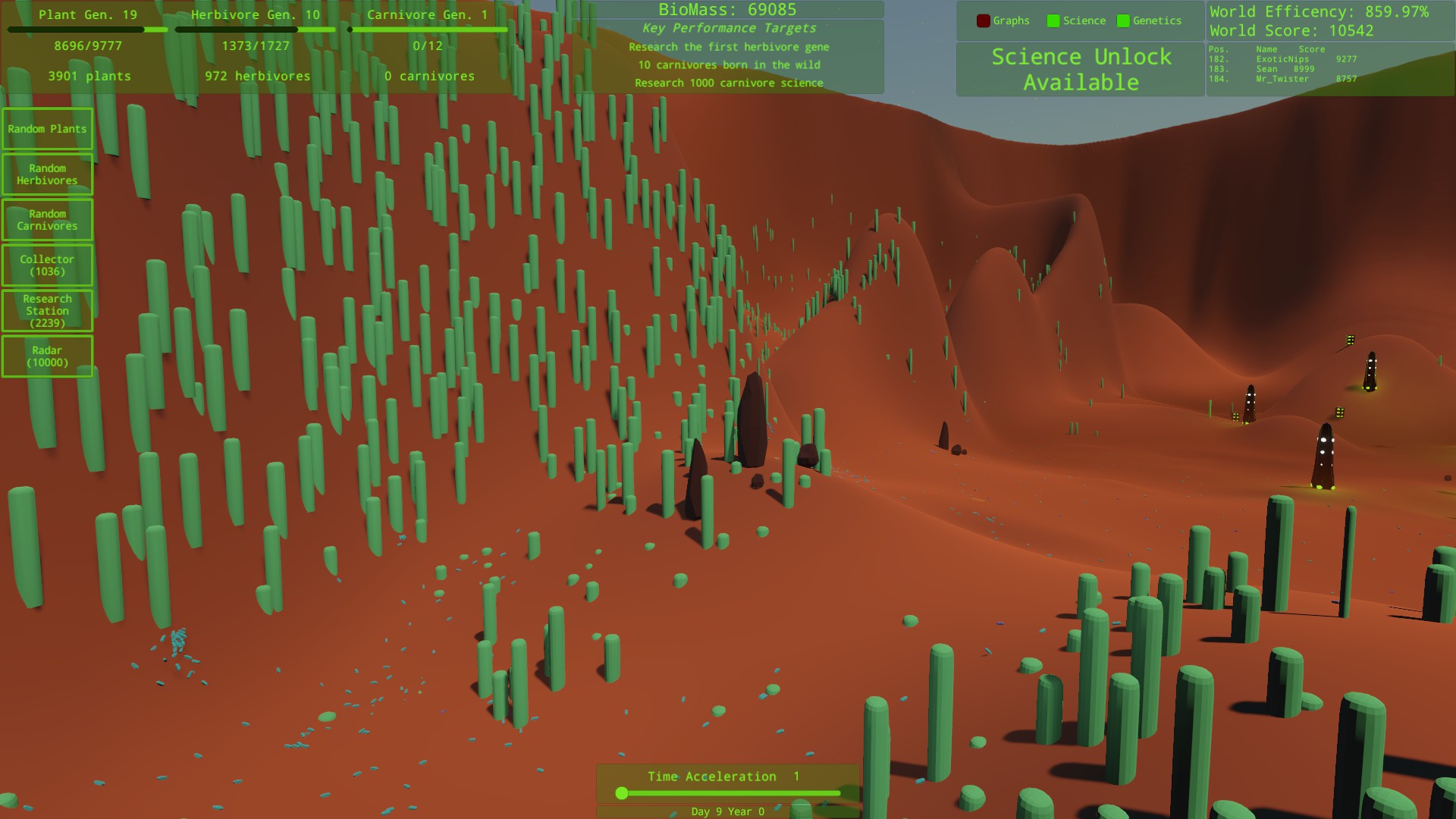 Time Acceleration!
The performance improvements have meant we have been able to add time acceleration unlocked right at the start. This is a feature that was previously unlocked by completing all Performance Targets in the game, but due to feedback from the community we have decided to provide players with this feature from the beginning. Use it wisely!
If you want to see what this all means in game, Dave and I sat down to play the new version of the game Saturday lunch time...
Full Patch Notes
Save directory has changed. To copy your old saves over launch the game and start a new save. Push escape to open the menu and hit 'Open Data Folder'. The old data folder will be one directory above the /intelligentdesign folder. Exit the game and copy all your old files over to the new one and restart the game.
Significant performance improvements
Controls completely reworked. Controller support has been removed in favour for a management game style mouse based input.
Added time acceleration unlocked by default.
Added a new map
Revamped tutorial - Changed wording to reflect new controls, removed voice-over, made the tutorial button driven.
Added tool tips to some buttons, these can be disabled in the options menu
Changed the fire effect and behaviour
Buttons are now highlighted red when selected
Wind audio now changes smoothly
Added join discord button to launch menu
Changed the wording on the science panel
Revamped the genetics panel so you can see all genes at once when editing
System menu now accessed by pressing escape in game
The Mac version now runs with newer versions of MacOS.
Files
IntelligentDesign64bit.zip
93 MB
Sep 30, 2018
IntelligentDesign32bit.zip
90 MB
Sep 30, 2018
IntelligentDesignLinux.zip
114 MB
Sep 30, 2018
IntelligentDesignMac.zip
98 MB
Sep 30, 2018
Get Intelligent Design: An Evolutionary Sandbox